Probate Service
Applying for probate can be a challenging and emotional process for bereaved family members after the death of a loved one, and who would be better to assist you during this difficult time than a firm of Chartered Accountants with whom you may already have built up a longstanding relationship over many years of assisting you with your financial affairs.
Whitehead & Howarth is licensed by the Institute of Chartered Accountants in England and Wales to carry out the reserved legal service of non-contentious probate in both England and Wales.
What we offer
We offer an initial free consultation and can provide assistance with obtaining grant of probate, identifying assets and liabilities of the estate, completing forms PA1 and IHT forms.
Fees
Our fees are charged on a time-spent basis however an indication for dealing with the affairs of an estate below the Inheritance Tax threshold would be approximately £1,100 plus VAT, and the timescale for dealing with such a case will on average be between 4-6 months.
Complaints procedure
We want to give you the best possible service. However, if at any point you become unhappy or concerned about the service we have provided to you then you should inform us immediately so that we can do our best to resolve the problem for you. In the first instance it may be helpful to contact the individual who is working on your case to discuss any concerns and we will do our best to resolve any issues at this stage.
Our complaints procedure is available in your engagement letter and terms of reference and in the first instance we would always ask that you initially direct any complaint to ourselves, however if you are still not satisfied a complaint may be made to the Institute of Chartered Accountants in England in Wales:
ICAEW
Level 1, Metropolitan House
321 Avebury Boulevard
Milton Keynes MK9 2FZ
We shall in every situation undertake the utmost effort to resolve any fair compliant you have.
What happens if I don't agree with your views on the complaint?
If we are unable to resolve the complaint with you then you can have the complaint independently looked at by the Legal Ombudsman. The Legal Ombudsman investigates problems about poor service from lawyers and accountants providing probate services.
Before accepting a complaint for investigation the Legal Ombudsman will check that you have tried to resolve your complaint with us first. If you have, then you must take your complaint to the Legal Ombudsman:
• Within six months of receiving a final response to your complaint and
• No more than six years from the date of act/omission;or
• No more than three years from when you should reasonably have known there was cause for complaint.
If you would like more information about the Legal Ombudsman please contact them on:
Visit www.legalombudsman.org.uk
Call 03005550333 between 9am to 5pm.
Email enquiries@legalombudsman.org.uk
Legal Ombudsman PO Box 6806, Wolverhampton, WV19WJ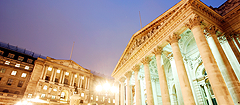 Financial
News
For the latest financial news click the below links:
Twitter Feed
Sorry, no Tweets were found.