Budgets and forecasts
Whether you have set up a new business, you are seeking some financial support, or you are a well established enterprise, you will benefit from setting benchmarks against which to monitor your progress.
Budgets and forecasts are tools used by many organisations to predict their activity and then make regular comparisons.  We can prepare budgets and forecasts for you to meet your needs, or simply provide assistance in setting these up for you on your own accounting system to help drive your business forward.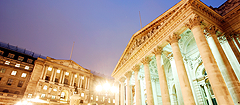 Financial
News
For the latest financial news click the below links:
Twitter Feed
Sorry, no Tweets were found.