Cash flows
For many small and even medium sized businesses their success or failure rests upon the effective management of their cash flows.  In order to ensure that your business is not starved of cash it is a good idea to prepare cash flow forecasts, predicting precisely when your cash reserves may be at their lowest so that adequate provision can be set in place to avoid unnecessary hiccups.
We can prepare cash flow forecasts for you, over any period to suit your needs.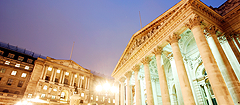 Financial
News
For the latest financial news click the below links:
Twitter Feed
Sorry, no Tweets were found.