Accounting software
There is now a wide range of accounting packages available to suit every type of small business, and we can help you choose the system that is best for you. Whilst we use Sage and IRIS products in-house, we are also able to supply Sage and Clearly Business products to you at highly competitive prices.
Our knowledge of accounting products such as these also means that we have the expertise to provide you with appropriate training to suit your own business needs.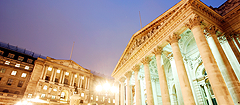 Financial
News
For the latest financial news click the below links:
Twitter Feed
Sorry, no Tweets were found.