Investigations
Modern risk based techniques are used by the Inland Revenue in many instances to identify where possible errors may arise in a tax return.  Indeed, not every investigation will lead to undisclosed income or underpaid tax being reported, but the interruption that an investigation can cause can be costly to your business.
We can help you during an enquiry and we also have access to support packages where you can cover the cost of any professional fees which may be incurred as a result of a full investigation.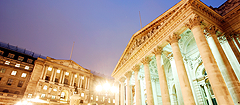 Financial
News
For the latest financial news click the below links:
Twitter Feed
Sorry, no Tweets were found.