Audit and assurance
Auditing and Assurance Services in Lancashire
Whitehead & Howarth Chartered Accountants undertake statutory audit services for individual companies and groups of companies as well as both incorporated and unincorporated charities.
We also carry out non statutory audits. Whilst the majority of businesses aren't required to have an audit by law, many of our clients do still choose to have one. Internal audits invariably add value to your management, planning and engagement with stakeholders as well as being a positive indicator of your company's credibility.
We can provide assurance reports, where stakeholders require more comfort than a mere accountant's report, to full audit engagements under the Companies Act or Charities Act regulations.
Carefully organised audit services
Our well planned and performed audit services can be a positive experience for both you and your business.  We will organise your audit carefully to ensure that we focus on the issues which are significant to your individual business. This enables us to provide you with constructive recommendations to improve your business' efficiency and productivity.
Whitehead & Howarth Chartered Accountants are fully registered by the ICAEW to carry out audit work in the United Kingdom and Ireland. Details about our audit registration can be viewed at www.auditregister.org.uk for the United Kingdom under reference number C005779741 and www.cro.ie/auditors for Ireland under reference number EWC005779741.
We will explain our internal audit service process at the very beginning of our relationship so you know what to expect. We will also ensure that you are kept up to date throughout.
As we allocate each client to one of Whitehead & Howarth's four partners, you can be sure of a personal and consistent service right the way through the auditing process.
Meet our Audit Manager
Whitehead & Howarth's Audit Manager is Mark Croasdale. Mark is the newest member of the management team and he was appointed as Audit Manager in 2014.
Mark provides audit, accountancy and business advice to start-up companies and medium sized entities.  Prior to joining Whitehead & Howarth, he attended the University of Bradford where he obtained a degree in Maths & Statistics.  Mark qualified as a Certified Chartered Accountant in 2005.
Mark has previously worked as the Audit and Accounts Manager at a top national accountancy practice for owner managed businesses. Over the years Mark has overseen the audit of various group clients, locally and nationwide including AIM listings.
To find out more about Mark and the other members of the team, click here.
Get in touch to find out more about our audit services
Whitehead & Howarth Chartered Accountants provide services throughout Lancashire from St. Annes, Lytham, Blackpool, Poulton-le-Fylde and Kirkham on the Fylde Coast through to Preston and Blackburn across the North West of England.
If you would like to find out more about Whitehead & Howarth's audit and assurance services, please get in touch with our friendly, expert team. Simply fill in our quick contact form and we will give you a call to chat through your requirements or alternatively call us on 01253 725111. You can also follow us on Twitter and Linked In.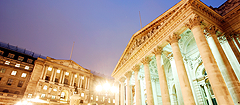 Financial
News
For the latest financial news click the below links:
Twitter Feed
Sorry, no Tweets were found.