The Practice & Meet the team
Regulated and established for your peace of mind
Whitehead & Howarth Chartered Accountants has been in practice since 1922. Our longevity, fine reputation and business success can be attributed to a highly professional approach to looking after our clients.
As members of the Institute of Chartered Accountants in England and Wales (ICAEW), we are ideally placed to help you with business growth plans, cash flow forecasting, raising finance, acquiring or selling businesses, retirement planning, and a host of other financial and advisory services.
We are also backed by over £3m worth of professional indemnity insurance, giving you the peace of mind that your business accounts are always in the safest hands
All the accountancy and financial experience you need
Our clients come to us not only because we can sort out their accounts, VAT, PAYE and tax returns, but also because they know they will receive a dedicated face to face service and the backing of a strong team.
We always seek to move with the times, keeping up to date with all the latest accounting practices and regulations, and because we are registered Chartered Accountants, our work is subject to independent external scrutiny and checking.
Our highly experienced team includes AAT, ACCA and ICAEW qualified chartered accountants, all of whom regularly undertakes professional development training in order to ensure that they maintain the most up to date technical know-how in the specialist fields in which they operate. We are externally assessed on a regular basis by ICAEW and we adhere strictly to the ethical standards it imposes on its members.
Partners: –
Mike Cronshaw M.B.A. A.C.A.
Mike qualified as a Chartered Accountant in 1986 and joined W+H in 1987.
Mike is mainly concerned with assisting small and medium sized business clients to hurdle the various impediments to the progress that exist, be that tax compliance or anything else. Very often this involves routine production of accounts and tax returns on a timely basis and timely confirmation of tax liabilities but the role of business advisor is also of vital importance. It is perhaps comforting to know that our clients think we will always have an answer to their questions or a solution to their problems or dilemmas and we usually find that we have.
Mike has been married for 30 years and has 2 daughters. He is a keen cyclist and his other interests include history, in particular, ancient history and the wars of the twentieth century.
Click here to visit Mike's LinkedIn
Gareth Maddock BA (Hons) F.C.A. DChA
Gareth joined the practice as Audit Manager in 2001 and became a partner in 2003 gaining his Diploma in Charity Accounting along the way.  He provides accounting, auditing, tax and advisory services to a range of clients, from tax advice for individuals to audits of medium-sized groups.
Gareth attending the University of Central Lancashire before going on to gain practical experience in a number of small and large accountancy firms throughout the North West.  He is also a founder member of the Business Development Association, a networking group for businesses in Lytham St. Annes.
Away from the office Gareth has a young family and when not undertaking DIY in his spare time likes to pursue his interests in Classic Cars and Rallying.
Click here to visit Gareth's LinkedIn
Candice Higgins BA (Hons) F.C.A.
Candice joined the practice in 2011 and became a partner in 2012.  Previously she was a client relationship manager at a large national firm.
She provides audit, accounting, taxation and advisory services to a wide range of clients particularly owner managed  and externally regulated businesses.
Candice spends most of her free time travelling all over the UK and Europe exhibiting at pedigree cat shows.
Click here to view Candice's LinkedIn
Mark Croasdale BSc (Hons) F.C.A.
Mark Croasdale has been with the firm since 2014. He delivers audit, accounting and business advice from 20 years experience and provides the complete accounting package from start up companies to major medium sized entities.
His personal areas of expertise include accounting, audit, groups and disclosure advice, as well as online company secretarial and Sage.
Mark attended the University of Bradford gaining an honours degree in Maths & Stats then qualified as an Accountant in 2005 with the ACCA.
Mark previously worked as the Audit and accounts manager at a top national accountancy practice for owner managed businesses, over the years Marks overseen the audit of various group clients, locally and nationwide including AIM listings.
He's committed to developing strong communication lines with clients across a wide spectrum of sectors and industries, providing advice and assistance on a range of business issues. Mark is a key member of various networking groups and is proactive on social media.
Away from work Mark has a young family that keeps him occupied and attends a local gym as well as being a keen Blackburn Rovers supporter for his sins !
Click here to visit Mark's LinkedIn
Consultant: –
Christian Dugdale B.Com. F.C.A.
Christian qualified as a Chartered Accountant in 1977 after first obtaining a Bachelor of Commerce degree at the University of Leeds.  He became the Senior Partner at Whitehead & Howarth in 2003 and provides accounting, tax and advisory services to a diverse portfolio of clients, many of whom are second and third generation clients of the firm.
Christian is married and has three grown up sons.  In his spare time he plays golf and enjoys driving his classic car.
We have the financial expertise to help you with your tax planning and business growth.  This is why our highly valued clients regard us as more than just accountants.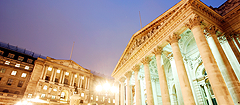 Financial
News
For the latest financial news click the below links:
Twitter Feed
Sorry, no Tweets were found.