Terms and Conditions
Welcome to our website. If you continue to browse and use this website, you are agreeing to comply with and be bound by the following terms and conditions of use, which together with our privacy policy govern Whitehead & Howarth's relationship with you in relation to this website. If you disagree with any part of these terms and conditions, please do not use our website.
The term 'Whitehead & Howarth' or 'us' or 'we' refers to the owner of the website whose registered office is 327 Clifton Drive South, Lytham St Annes, Lancashire FY8 1HN. The term 'you' refers to the user or viewer of our website.
The use of this website is subject to the following terms of use:
The content of the pages of this website is for your general information and use only. It is subject to change without notice.
This website uses cookies to monitor browsing preferences. If you do allow cookies to be used, the following personal information may be stored by us for use by third parties: [insert list of information].
Neither we nor any third parties provide any warranty or guarantee as to the accuracy, timeliness, performance, completeness or suitability of the information and materials found or offered on this website for any particular purpose. You acknowledge that such information and materials may contain inaccuracies or errors and we expressly exclude liability for any such inaccuracies or errors to the fullest extent permitted by law.
Your use of any information or materials on this website is entirely at your own risk, for which we shall not be liable. It shall be your own responsibility to ensure that any products, services or information available through this website meet your specific requirements.
This website contains material which is owned by or licensed to us. This material includes, but is not limited to, the design, layout, look, appearance and graphics. Reproduction is prohibited other than in accordance with the copyright notice, which forms part of these terms and conditions.
All trademarks reproduced in this website, which are not the property of, or licensed to the operator, are acknowledged on the website.
Unauthorised use of this website may give rise to a claim for damages and/or be a criminal offence.
From time to time, this website may also include links to other websites. These links are provided for your convenience to provide further information. They do not signify that we endorse the website(s). We have no responsibility for the content of the linked website(s).
Your use of this website and any dispute arising out of such use of the website is subject to the laws of England, Northern Ireland, Scotland and Wales."
Engagement of services
A letter of engagement accompanied by standard terms and conditions will be provided, as a matter of standard practice, at the commencement of any engagement to which they apply. The legal form of the firm is that of a partnership and is registered to carry on audit work in the UK and Ireland by the Institute of Chartered Accountants in England and Wales.
Details about our audit registration can be viewed at www.auditregister.org.uk for the UK and, www.cro.ie/auditors for Ireland, under reference C005779741.
For audit engagements we are governed by the professional rules of the Institute of Chartered Accountants of England and Wales which can be found at www.icaew.com/auditnews and International Standards on Auditing (UK and Ireland) at www.frc.org.uk
Each engagement is governed by, and construed in accordance with English law. The Courts of England will have exclusive jurisdiction in relation to any claim, dispute or difference concerning this engagement letter and any matter arising from it.  Each party irrevocably waives any right it may have to object to any action being brought in those courts, to claim that the action has been brought in an inappropriate forum, or to claim that those courts do not have jurisdiction.
If a conflict of interest should raise, either between two or more of our clients, or in the provision of multiple services to a single client, we will take such steps as are necessary to deal with the conflict.  In resolving the conflict, we would be guided by the Code of Ethics of the Institute of Chartered Accountants in England and Wales which can be viewed at www.icaew.com/en/membership/regulations-standards-and-guidance/ethics
We will observe and act in accordance with the bye-laws and regulations of the Institute of Chartered Accountants in England and Wales together with their ethical code which can be found at www.icaew.com/regulations.  As auditors we are also required to follow APB Ethical Standards at www.frc.org.uk
In accordance with the disclosure requirements of the Provision of Services Regulations 2009, our professional indemnity insurer is Aqueous Underwriting, 30 Fenchurch Avenue, London, EC3M 5AD. The territorial coverage is worldwide excluding professional business carried out from an office in the United States of America or Canada and excludes and action for a claim brought in any court in the United States or Canada.
As a simple business objective we aim to provide our clients with complete satisfaction.  We also have a professional duty to investigate complaints.  If you should have any cause of complaint concerning us we would invite you at first instance to bring this to the attention of the engagement partner. In the event of your not being satisfied by our response, you may also bring the matter to the attention of the Institute of Chartered Accountants in England and Wales, Chartered Accountants' Hall, PO Box 433, Moorgate Place, London EC2P 2BJ
Whitehead & Howarth Chartered Accountants V.A.T. Registration Number : 153 6591 54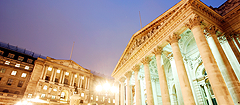 Financial
News
For the latest financial news click the below links: