ICAEW 2023 Probate Diversity Survey
We are pleased to provide the results of our ICAEW Probate Diversity Survey 2023.
Whitehead & Howarth as a firm is licensed by the Institute of Chartered Accountants in England and Wales to carry out the reserved legal activity of non-contentious probate in England and Wales (ICAEW). We are required by ICAEW along with other such firms to complete the 'Probate Diversity Survey 2023'.
The Firm's Survey results demonstrate that we are a mixed team with both male and female workers at different seniority levels across the firm. Whilst we are primarily a Chartered Firm we also employ a mix of other qualified accountants and although a large proportion of our team is middle-aged there is some diversity of ethnicity in evidence.
The majority of our Team attended UK State Schools and also the majority of those who attended university are the first generation of their family to do so.
If you had undertaken this survey 100 years ago when this firm was newly established some of the survey results would have been very different, and our diversity survey results demonstrate that Whitehead & Howarth has evolved with a changing society.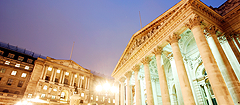 Financial
News
For the latest financial news click the below links:
Twitter Feed
Sorry, no Tweets were found.